Little Rock Nine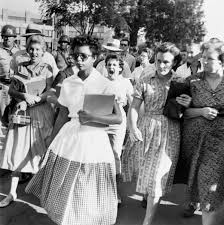 The Little Rock Nine were a group of nine Black students who enrolled at formerly all-white Central High School in Little Rock, Arkansas, in September 1957.
On September 4, 1957, the first day of classes at Central High, Governor Orval Faubus called in the Arkansas National Guard to block the Black students' entry into the high school, and they were met by protestors who screamed and yelled slurs at the students. Daily they returned to school, dealing with the discrimination and resistance from the citizens of Little Rock.
Later that month, President Dwight D. Eisenhower sent in federal troops to escort the Little Rock Nine into the school. It drew national attention to the civil rights movement.