Miss Major Griffin-Gracy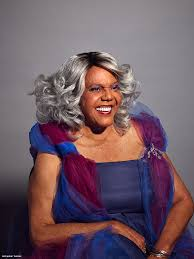 Miss Major Griffin-Gracy (born October 25, 1940), often referred to as Miss Major, is a trans woman activist and community leader for transgender rights, with a particular focus on women of color. She served as the original Executive Director for the Transgender Gender Variant Intersex Justice Project, which aims to assist transgender persons, who are disproportionately incarcerated under the prison-industrial complex. Griffin-Gracy has participated in activism for a wide range of causes throughout her lifetime, including the 1969 Stonewall riots in New York City.
Griffin-Gracy views the state of being transgender or genderqueer as one of "living outside the law" due to constant rejection from mainstream audiences, particularly in pursuing job or education opportunities. She also argues that while many people with transgender and queer identities are not imprisoned, their identities and means of expression are policed through social behavior and state policies. She frequently cites the prison industrial complex as a major factor in why transgender people are incarcerated, specifically people of color and those with low income.