October 31, 2018 • 1 Comment
Stephen Aliaj, Danny Abrams, and Marco Gonzalez represented the 8th Grade Boys Soccer team in the All-Star Game at Neptune on 10/24. Congratulations to the boys on a great s eason.  The team finished...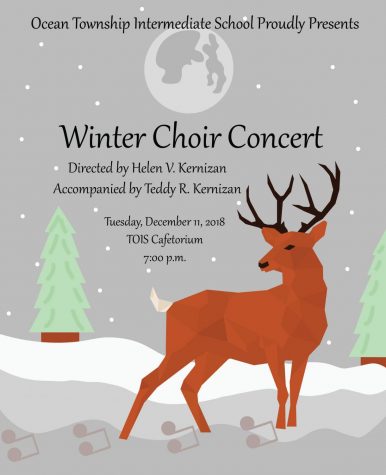 December 6, 2018 • No Comments
Rehearsals are in full swing, and the OTIS Choir is getting ready for the Winter Choir Concert directed by our very own, Helen V. Kernizan, accompanied by Teddy R. Kernizan. There is no better way to warm...
October 9, 2018
Sand Pebbles Sand Pebbles is TOIS's school literary magazine.  We promote creativity and orginality...
October 1, 2018
Makerspace If you enjoy science, technology, engineering, art, and math then you are a "Maker" and...
September 28, 2018
Art Club is a club that welcomes all 6th, 7th, and 8th grade students who like art and want to express...

Loading ...
Recent Sports Scores
Tuesday, January 8

8th Grade Boys Basketball

OTIS 29 - Bayshore 34